Palermo Yacht Marina
Palermo Yacht Marina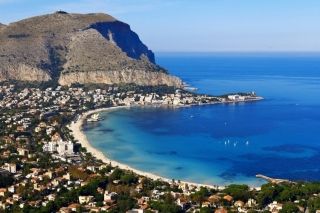 Palermo has one of the most important yacht marinas of southern Italy. Here, EY4U can arrange berths for yachts and superyachts. Also, we can arrange safe anchorage in the gulf and in the nearby beautiful bays.
LAT 38°08',62 N
LONG 13°22',37 E
Palermo overview
Palermo, in the north-western coast, is the main city of Sicily and one of the most popular destinations. It overlooks a wide gulf framed by beaches, marine reserves and natural parks. It is also surrounded by bays of extraordinary naturalistic beauty and by historical, cultural and gastronomic attractions.
In Palermo we can arrange berthing in private marina, safe anchorages and a docking service for tenders nearby the airport to allow boarding and landing.
Private private yacht marinas
Private yacht marina in Palermo is at the southern end of the commercial harbour, is well-equipped with all the facilities, has a depth of about 8 mtrs and can accommodate about 300 yachts up to 70 mtrs long.
Swimming spots in Palermo
The best swimming spot in Palermo is certainly the sandy beach of Mondello.
From West to East, a few miles from Palermo, the best swimming spots are the stunning sandy and rocky beaches of the gulfs of Carini and Castellammare going through Terrasini, Balestrate and Alcamo Marina. From Palermo toward East, the best swimming spots are the evocative sandy and rocky beaches of Bagheria and Cefalù.
In all these places, we guarantee safe anchorage.
Additional info about Palermo
Palermo has an international airport, also available for private flights, which is only about 30 minutes drive from the yacht marinas. A heliport is available, too.
We can arrange a docking service for tenders nearby the airport to allow boarding and landing.
Nevertheless, it is easy to get to Palermo even from Trapani International Airport, about 40 minutes by car.
The cultural and historical attractions in the area of Palermo are its own old centre and the historic towns of Monreale, with its stunning Cathedral, and Carini, with its mysterious castle.
Please, contact us for more detailed information about the port and the interesting locations in the area of ​​Palermo and book your berth by e-mail booking@ey4u.com or phone +39-344-388-36-39.