Trapani Yacht Marina
Trapani Yacht Marina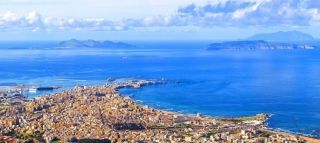 We are yacht agents for Trapani, Sicily, and we can arrange berths for yachts and superyachts. Also, we can arrange safe anchorage in the nearby beautiful bays and we offer a large amount of yacht services in order to ensure the best experience onboard and onshore.
LAT 38°00',39 N
LONG 12°30',03 E
Trapani yacht harbour
The port of Trapani, in the western coast of Sicily, has a strategic position in the middle of the Med and in front of the beautiful Egadi Islands. It is also surrounded by bays and gulfs of extraordinary naturalistic beauty and by historical, cultural and gastronomic attractions.
In the port of Trapani, we can offer moorings both in private marina and in the town quay reserved for superyachts and cruise ships.
Private yacht marina in Trapani
Private yacht marina in Trapani is equipped with all the facilities, has a depth of about 5 mtrs and can accommodate yachts up to 50 mtrs long.
Town quay
This pier is coveted, as it is right in front of the beautiful old town, which is full of restaurants, clubs, historical monuments and so on. This is much appreciated both by guests and crew.
The town quay has a total length of 300 mtrs, a depth of 8 mtrs, can accommodate yachts up to 100 mtrs long, but do not offer water and electricity service on shore (however, fresh and drinkable water can be supplied by truck). A fuel station for yacht refueling is available on the quay, too.
Yacht anchorages in Trapani
In front of the port of Trapani there are 5 anchoring areas, where we can guarantee safe anchorage for yachts and superyachts.
Swimming spots near Trapani
The best swimming spots are certainly the rocky beaches of the Egadi Islands, the white sandy beach in San Vito Lo Capo and the rocky bays of Cornino, Macari, Scopello and Castellammare del Golfo. In all these places, we offer moorings in private marinas and guarantee safe anchorage.
A unique experience is a visit to the Zingaro Nature Reserve, a stunning park with cliffs dropping into the azure sea, outstanding views, a huge variety of flora and wildlife including eagles, peregrine falcons and lizards and delightful pebbly beaches lapped by transparent turquoise waters.
Additional info about Trapani
Trapani has an international airport, both for commercial and private flights, which is only about 20 minutes drive from the port.
Nevertheless, it is easy to get to Trapani even from Palermo International Airport, about 40 minutes by car.
The cultural and historical attractions in the area of ​​Trapani are its own old centre and the historic towns of Erice, with its ancient castles, and Segesta, with its Greek temple and amphitheatre.
Trapani is also surrounded by natural parks and marine reserves.
Please, contact us for more detailed information about the port and the interesting locations in the area of ​​Trapani and book your berth by e-mail booking@ey4u.com or phone +39-344-388-36-39.