Egadi Islands Yacht Marina
Egadi Islands Yacht Marina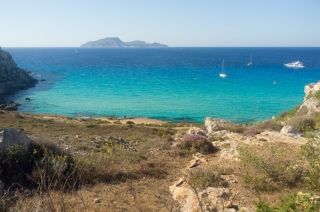 Egadi Islands: the heaven in the heart of the Mediterannean. The arcipelago has a characteristic yacht marina where we can arrange safe anchorage for yachts and superyachts in the most stunning bays and in the best swimming spots of the marine reserve.
Egadi Islands overview
The Egadi Islands are just 8 miles off the coast of Trapani and are the largest marine reserve in the Mediterranean.
Favignana is the largest and most famous island of the archipelago. Also, there are the small island of Levanzo and the furthest Marettimo, with their uncontaminated naturalistic beauty. Moreover, there are the islets of Formica, Maraone and Porcelli.
The Egadi Islands are well known for their precious archaeological findings, both on dry land and under water. Specifically, Favignana is famous for the passage of tuna fish close to the coast and the ancient practice of tuna fishing.
Swimming spots in the Egadi Islands
The best swimming spots are definitely in Favignana, whose small coves are really worth exploring. Cala rossa, Cala azzurra and Punta Longa are by far the most breath-taking bays in the island, due to their deep blue sea and their peculiar sandy beaches.
These swimming spots are located in the protected area and we can issue the permission for sailing and anchoring into the marine reserve.
Marine reserve of the Egadi Islands
The pure coastlines and the amazing sea bottom are the main attractions, due to their rich flora and fauna and their archaeological discoveries.
The sea bed of the marine reserve is populated by a huge stretch of Posidonia seagrass and by many different protected fauna species, such as striped and bottle-nosed dolphins, loggerhead sea turtles (Caretta Caretta) and monk seals.
We can issue the permission for sailing and anchoring into the protected area.
Archaelogical park of the Egadi Islands
It is very interesting to visit the Grotta del Genovese cave, located in the island of Levanzo, where you can see Neolithic paintings and Paleolithic graffiti.
Also, numerous war findings were discovered on the sea bed, like warship rams, armours, helmets, amphorae and many other shipboard items. Indeed, in the 3rd century BC, the Egadi Islands were the setting of the First Punic War, during which Rome fought a ship battle against Carthage.
Additional info about the Egadi Islands
Please, contact us for more detailed information about the Egadi Islands and the interesting locations in the area of ​​Trapani and book your berth by e-mail sicily@ey4u.com or phone +39-344-388-36-39.