Taormina Yacht Marina
Taormina Yacht Marina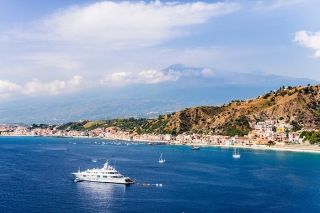 EY4U offers quality yacht services in Taormina, Sicily, and we can arrange safe anchorage for yachts and superyachts in the bay of Giardini Naxos.
Taormina overview
Taormina is the most classy and fashionable town in Eastern Sicily and Giardini Naxos is a thriving tourist resort, a sort of hotel suburb of Taormina. Thus, this beautiful bay is always busy with cruise ships and superyachts.
Taormina is also surrounded by beaches and gulfs of extraordinary naturalistic beauty and by historical, cultural and gastronomic attractions.
In the bay of Giardini Naxos, we can arrange safe anchorage for yachts and superyachts.
Yacht anchorages in Taormina
The harbour lies about 2 miles SW of Capo Taormina on the N side of Capo Schiso, an ancient low black lava flow. In front of the harbour, there is a coveted anchoring area, where we can guarantee safe anchorage.
Swimming spots in Taormina
The most beautiful beach in Taormina is certainly the one facing the natural reserve of Isola Bella, with its multi-coloured marine environment and its underwater world, rich of wrecks and archaeological finds.
Among the best swimming spots of the area, there are also: Mazzarò, whose small bay is no less enviable than the sea of the Tropics; Mazzeo, with its large stretches of sand that fade into a crystal clear sea without rocks; Spisone, with its overhanging cliffs and its magnificent views; Capo Sant'Andrea, with its spectacular sea caves.
Additional info about Taormina
The nearest airport is Catania International Airport, also available for private flights, which is about 1 hour drive from both the harbour of Giardini Naxos and the town of Taormina. A heliport is available, too.
The cultural and historical attractions in Taormina are the historic centre and the Greek Theatre.
Taormina is also surrounded by marine reserves and natural parks. For nature lovers, the craters of Etna Mount are really unmissable, as well as Alcantara Gorges.
Please, contact us for more detailed information about the port and the interesting locations in the area of ​​Taormina and book your berth by e-mail sicily@ey4u.com or phone +39-344-388-36-39.