Syracuse Yacht Marina
Syracuse Yacht Marina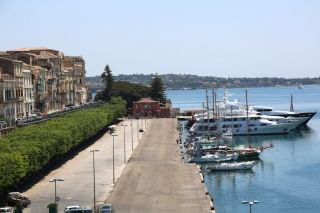 Syracuse, in Sicily, has an historic yacht marina where we can arrange berths for yachts and superyachts. Also, we can arrange safe anchorage in the nearby beautiful bays.
LAT 37°03',40 N
LONG 15°17',40 E
Syracuse overview
The port of Syracuse, in the south-eastern coast of Sicily, has a strategic position in the Med, as well as the town had a top role in history, art, culture and ancient science, starting about 700 years BC. All these traits make Syracuse one of the most intriguing places and popular destinations in Sicily.
It is also surrounded by bays and gulfs of extraordinary naturalistic beauty and by historical, cultural and gastronomic attractions.
In Syracuse, we can offer moorings both in private marinas and in the town quay reserved for yachts and superyachts.
Syracuse private yacht marinas
Private yacht marinas in Syracuse are equipped with all the facilities, have a depth of about 5 mtrs and can accommodate yachts up to 45 mtrs long.
Town quay
This pier is coveted, as it is right in front of the beautiful old town (Ortigia), which is full of restaurants, clubs, historical monuments and so on. This is much appreciated both by guests and crew.
The town quay has a total length of 200 mtrs, a depth of 6 mtrs, can accommodate yachts and superyachts up to 100 mtrs long and offers water and electricity service on shore. A fuel station for yacht refueling is available on the quay, too.
Yacht anchorages in Syracuse
We can guarantee safe anchorage in the large bay of Syracuse (Grand Harbour) and in the nearby beautiful bays.
Swimming spots in Syracuse
Syracuse offers many sandy beaches which are beautiful swimming spots. Among them: the beaches of Arenella and Fontane Bianche, the beaches of Plemminio Marine Reserve and the beaches of Vendicari Nature Reserve.
Additional info about Syracuse
The nearest airport is Catania International Airport, also available for private flights, which is about 1 hour drive from the port. A heliport is available, too.
The many cultural and historical attractions in the area of Syracuse are all included in the World Heritage List of UNESCO. Among them: the historic town of Ortigia, the Roman amphitheatre, the Rocky Necropolis of Pantalica, the Neapolis Archaeological Park.
Syracuse is also surrounded by natural parks and marine reserves.
Please, contact us for more detailed information about the port and the interesting locations in the area of Syracuse and book your berth by e-mail sicily@ey4u.com or phone +39-344-388-36-39.