Milazzo Yacht Marinas
Milazzo Yacht Marinas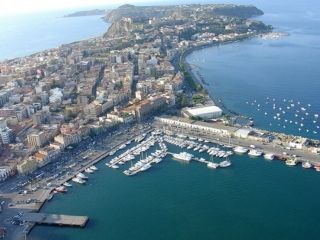 As yacht agents, we can arrange berths for yachts and superyachts at Milazzo yacht marina. Also, we can arrange safe anchorage in the nearby beautiful bays.
LAT 38°12',86 N
LONG 15°14',96 E
Milazzo overview
The port of Milazzo has a strategic position in the north-eastern coast of Sicily, located on the isthmus overlooking the gulf and facing the stunning Aeolian Islands. It is also surrounded by bays of extraordinary naturalistic beauty and by historical, cultural and gastronomic attractions.
In the port of Milazzo, we can arrange berthing in private marinas and safe anchorages.
Milazzo private yacht marinas
Private yacht marinas in Milazzo are equipped with all the facilities, have a depth of about 8 mtrs and can accommodate yachts up to 60 mtrs long.
Yacht anchorages in Milazzo
In front of the port of Milazzo, there is an anchoring area, where we can guarantee safe anchorage for yachts and superyachts.
Swimming spots in Milazzo
The best swimming spots are definitely the evocative beaches in the Aeolian Islands, which are just a few miles off Milazzo.
Additional info about Milazzo
The nearest airport is Catania International Airport, also available for private flights, which is about 2 hours drive from the yacht marinas. A heliport is available, too.
Nevertheless, it is possible to get to Milazzo even from Palermo International Airport, about 2 hours and 30 minutes by car.
The main cultural and historical attractions in Milazzo are Frederick's castle, dating back to the 13th century, the old Baroque Cathedral and the nearby necropolis dating back to Bronze Age.
Please, contact us for more detailed information about the port and the interesting locations in the area of Milazzo and book your berth by e-mail sicily@ey4u.com or phone +39-344-388-36-39.