ACI Marina Split
ACI Marina Split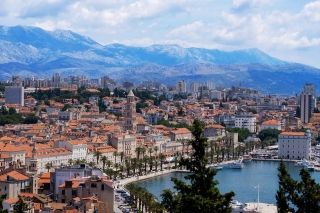 We are yacht agents for ACI MARINA SPLIT, Croatia, and we can arrange berths for yachts and superyachts. Also, we can arrange safe yacht anchorages in the most beautiful bays.
Aci Marina Split quay
ACI Marina Split lies in the most beautiful part of the city's port, north of the Sustipan peninsula.
The Marina offers all sorts of services, such as hotels, restaurants, shops and the quays can accommodate yachts up to 55 mtrs long, with max berths depth of 3.5 mtrs.

Split overview
Split is the capital of Dalmatia, home to the Museum of Croatian Archaeological Monuments, the oldest museum in Croatia, founded in 1820. It is a city full oh history and amazing architecture, and there are many unmissable monuments to visit. The most stunning location is 4th century Diocletian's Palace, dominating the city's historic core, which is more of a citadel than a palace, with the original Roman streets and original paving stones.
St. Duje's Cathedral, with its central portion dating back to 350, makes St Duje's the oldest cathedral building in the world. Peristil square, the original Roman court with its two 3,500-year-old Egyptian sphinxes still standing, can't be missed as well.

Swimming spots near Split
Split has a very large number of beaches, mostly sandy, and the finest are Bacvice, Kasjuni, Kastelet and Bene beaches.
Additional info about Split
Split has an International Airport connected to more than fifty major European cities. Please, contact us for more detailed information about the port and the interesting locations in Split area and book your berth by e-mail sicily@ey4u.com or phone +39-344-388-36-39.