ACI Skradin Marina
ACI Skradin Marina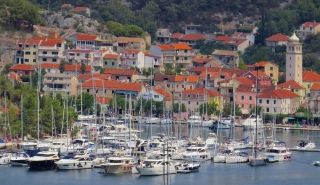 We are yacht agents for ACI SKRADIN marina, Croatia, and we can arrange berths for yachts and superyachts. Also, we can arrange safe yacht anchorages in the most beautiful bays.
Skradin overview
Skradin is a little town located at the entrance of the popular Krka National Park. This small Mediterranean town, with its charming narrow paved streets and passages, rich history, stunning scenery, and quality cuisine and wine, is one of Croatia's little gems.
The area of Skradin is the most visited by tourists because of the marvellous Krka National Park. The main attraction of the park is a series of waterfalls, the biggest of which, Skradinski buk, was named after Skradin. Other attractions are the Medieval Fortress of Turina and the Baroque Catholic Church of the Blessed Virgin Mary.

City quay
The Marina is located within the old city port, and the quay area is full of restaurants, bars and shops. The quay can accommodate yachts up to 70 mtrs long and is equipped with a fuel station for yacht refueling.
Swimming spots near Skradin
Skradin town beach is very close to the city center, and it's pebbly, long and wide, with grassy fragments disappearing in the shade of nearby trees. The waters are a mix of salty water and the fresh water of the river, because this magical place is where the river joins the Adriatic sea.
Additional info about Skradin
The closest airport is Split International Airport. Please, contact us for more detailed information about the port and the interesting locations in Skradin area and book your berth by e-mail sicily@ey4u.com or phone +39-344-388-36-39.