Murter Marina Hramina & Marina Betina
Murter Marina Hramina & Marina Betina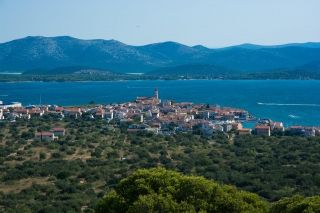 We are yacht agents for Murter Marina Hramina and Marina Betina, Croatia, and we can arrange berths for yachts and superyachts. Also, we can arrange safe yacht anchorages in the most beautiful bays.
MARINA HRAMINA
MARINA BETINA
Murter Marina Hramina and Marina Betina quays
Both marinas are situated in the island of murter, on the north entrance of the Murter Canal.

The Marinas can accommodate yachts up to 40 mtrs long, max berths depth is 3-8 mtrs, and they are equipped with all services such as water supply and power supply.

Murter overview
The island of Murter is situated near Kornati National Park. The little town of Murter, where the marina is located, is the oldest and largest settlement on the island. It is founded in the western part of the island, in Hramina Bay.
The ancient part of the medieval village is located on the hill. The original houses are in limestone, today mostly restored, and are gathered around the church of San Michele of 1770, whose 4-storey bell tower has an octagonal spire all in stone. Walking up to the nearby Vrsina hill you can reach the white church of Sveti Rok erected in 1760.

Swimming spots near Murter
There are many fine beaches and bays all around the island, and the most beautiful are Cigrada, Slanica and Kosirina beaches.
Additional info about Murter
The nearest airport is Zadar International Airport, connected to more than fifty major European cities. Please, contact us for more detailed information about the port and the interesting locations in Murter area and book your berth by e-mail sicily@ey4u.com or phone +39-344-388-36-39.