Sibenik D-Marin Mandalina Marina
Sibenik D-Marin Mandalina Marina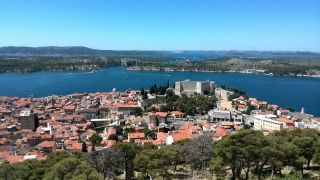 We are yacht agents for SIBENIK D-MARIN MANDALINA MARINA, Croatia, and we can arrange berths for yachts and superyachts. Also, we can arrange safe yacht anchorages in the most beautiful bays.
Sibenik D-Marin Mandalina marina quay
D-Marin Mandalina, Croatia's only marina to have been awarded 4 Gold Anchors, is located in the beautiful and ancient city of Šibenik on the beautiful Dalmatian coast, in a naturally protected ocation.
The Marina offers all sorts of facilities and services such as restaurants, bars and shops, many amenities, and the quays can accommodate yachts up to 140 mtrs long.

Sibenik overview
The town of Šibenik has a fascinating history, being ruled at various times by Venice, and the Austro-Hungarian Empire. Among its attractions The Cathedral of St. James is a UNESCO world heritage protected site and Croatia's most important example of Renaissance architecture. The original Romanesque church dates back to 1298, and and the interior decoration and architecture are masterfully combined in religious symbolism.
In the near area there are the towns of Zadar and Split, and 4 national parks (Krka waterfalls, Kornati, Paklenica and the Plitvice Lakes).

Swimming spots near Sibenik
Banj beach is a small-pebbled beach not far from the centre of Sibenik, and has a view of the old centre of Sibenik. Other fine beaches are Jadrija city beach and Primosten beach.
Additional info about Sibenik
The nearest airport is Zadar International Airport, connected to more than fifty major European cities. Please, contact us for more detailed information about the port and the interesting locations in Sibenik area and book your berth by e-mail sicily@ey4u.com or phone +39-344-388-36-39.