ACI Marina Milna
ACI Marina Milna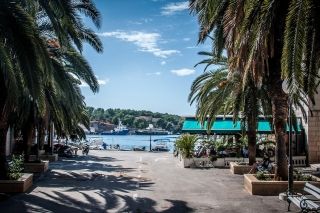 We are yacht agents for ACI MARINA MILNA, Croatia, and we can arrange berths for yachts and superyachts. Also, we can arrange safe yacht anchorages in the most beautiful bays.
Aci marina Milna quay
ACI Marina Milna is located in the largest, best-protected, and most beautiful harbour on the island of Brač.
The Marina offers all sorts of services, such as hotels, restaurants, shops and the quays can accommodate yachts up to 45 mtrs long, with max berths depth of 7 mtrs.

Milna overview
Milna is situated in the west of Brač, 18 km from the island capital of Supetar. It is one of the most graceful small Baroque towns on the Dalmatian coast. Stone houses along the beautiful long coastline are small masterpieces of plebeian architecture. In the town there is also a beautiful Baroque church with a typically Dalmatian bell tower. The interior of the church hides impressive works of Venetian masters.
One of the attractions of the island of Brač are piles of unprocessed stone stacked into dry-stone walls alongside footpaths between fields.

Swimming spots near Milna
The closest beach to the town is a sandy beach in the bay itself, also called Milna. The nearby uninhabited islet of "Veli Budihovac" hosts two charming gravel beaches and many hidden bathing spots. And just 15 minutes of walk from Milna, one of the most beautiful sand beaches in Dalmatia is located, named Zaglav.
Additional info about Milna
The nearest airport is Split International Airport, connected to more than fifty major European cities. Please, contact us for more detailed information about the port and the interesting locations in Milna area and book your berth by e-mail sicily@ey4u.com or phone +39-344-388-36-39.